---
AVS workshop held in Turkey to promote sustainable agriculture in Northwest Syria.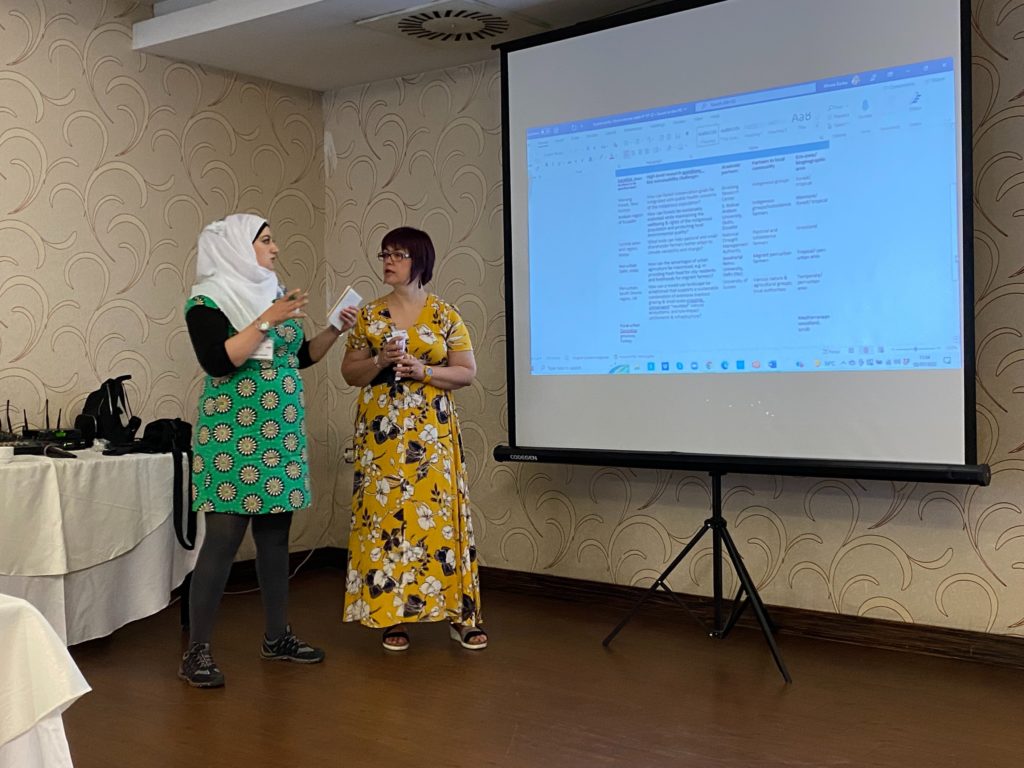 September 22, 2022
On 2nd July 2022, the University of Sussex, Cara (Council for At-risk Academics) and Syrian Academic Expertise (SAE) hosted a workshop in Gaziantep, Turkey, attended by agricultural experts from local NGOs working in Northwest Syria. Session I was led by Dr. Shaher Abdullateef, SAE Director and Session II by Dr. Mirela Barbu, University of Sussex.
Participants worked in groups of three to four, or individually, depending on the task, with discussion focusing on how to improve AVS outputs (podcasts and videos) to support sustainability through knowledge sharing on good practice and skills-building, with the aim to make AVS the 'go-to' information site for farmers and others involved in the sector in Northwest Syria.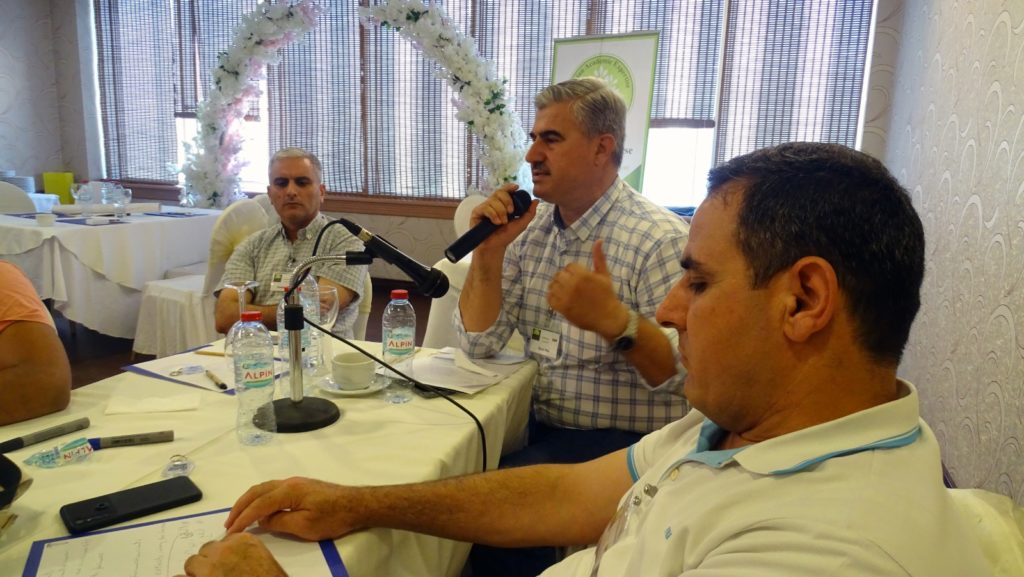 SESSION I: IMPROVING THE DELIVERY OF EXTENSION SERVICES
1. Future Topics for AVS Outputs
Techniques for emergency agriculture.
Alternatives to fertilisers and pesticides.
Water rationing, e.g. rainwater harvesting, natural resource management.
Renewable energy.
Mitigation of, and responses to, fire and floods.
Recycling agricultural waste and by-products.
2. Development Areas for Extension Services
Knowledge sharing mechanisms: farmer to farmer and specialists to farmers.
Coordination mechanisms: public institutions and agricultural extension services.
Develop an electronic agriculture library.
Establish meteorological stations offering real-time weather forecasts to farmers.
Promoting capacity-building amongst technicians and farmers.
Promoting the role of women in agriculture.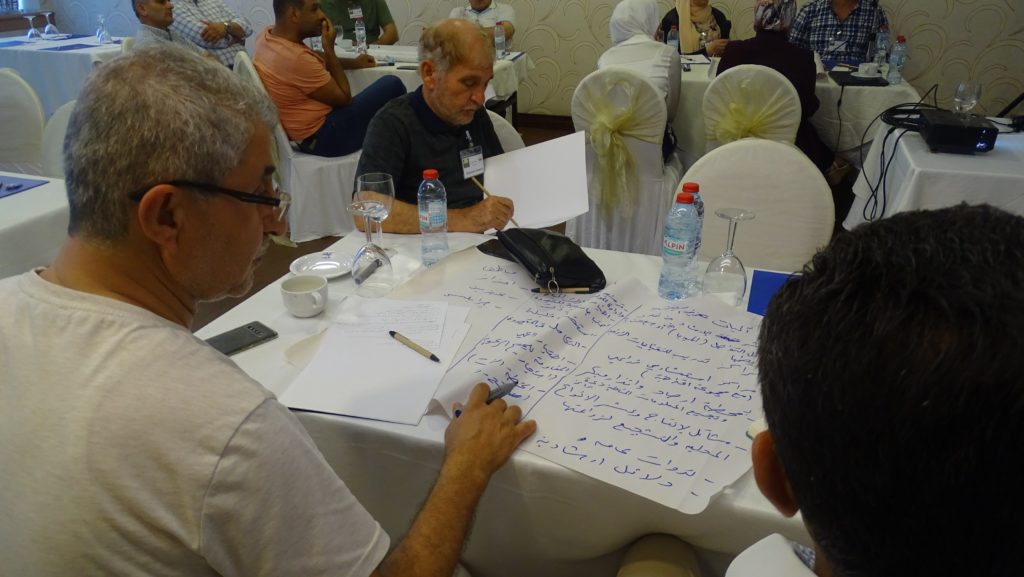 SESSION II: SUSTAINABILITY CHALLENGES IN AGRICULTURE IN NORTHWEST SYRIA
As well as informing future AVS outputs, information from this session will also inform the Sussex Sustainability Research Programme (SSRP) 'Sustainability Observatories' initiative, monitoring progress towards relevant SDGs and sustainability in the Global South through interdisciplinary data. Workshop participants were asked to identify key challenges, target groups and potential partners.
1. Challenges
Environmental
Drought and deforestation.
Natural resource management and water in particular.
The conservation of local genotypes, especially grains.
Socio-Economic
Achieving food security.
Decreasing poverty.
Increasing female participation in agriculture.
Establishing training centres for farmers and other agricultural operators.
Governance
Collaboration between local stakeholders, donors and humanitarian actors.
Development projects and long-term planning.
Security.
2. Targeted Groups
Farmers and farming groups.
Private industry: Syrian/Turkish agricultural organisations operating in Northwest Syria.
Agricultural engineers, students and researchers.
3. Potential Partners
Universities.
Public institutions and local councils.
Non-governmental organisations.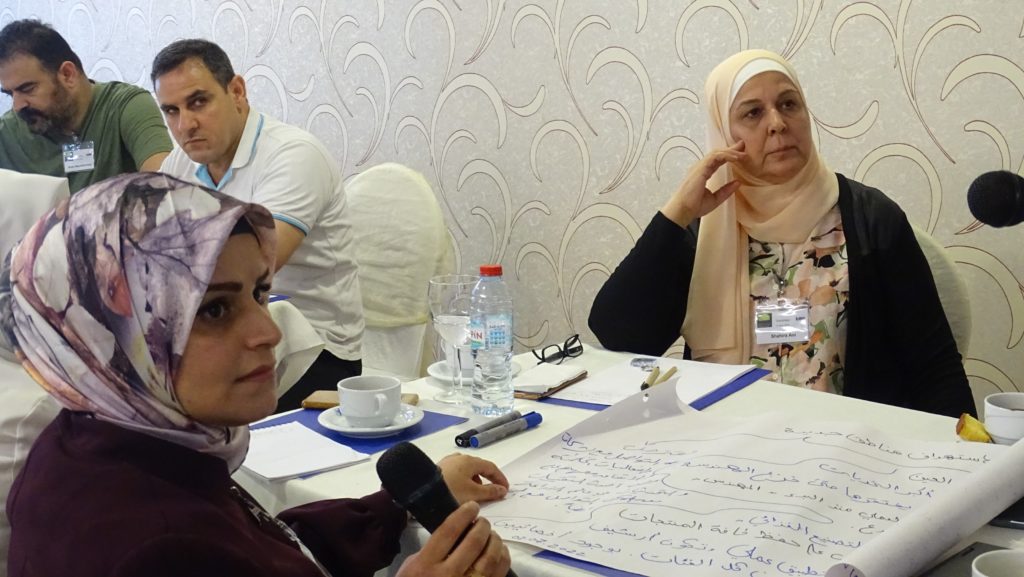 A Communication Platform for the Sector. AVS's role as an innovative communication and information-sharing platform for agricultural experts, NGOs, and decision makers and practitioners at the policy and implementation level, was discussed, as was the innovative nature of its use of media in a complex context.
Since its launch in May 2021, AVS has delivered 30 podcasts and 15 videos on key agricultural areas of direct relevance to Northwest Syria, with further outputs pending. The importance of AVS's contribution to a wide range of agricultural actors in Northwest Syria was fully acknowledged, as was its role in facilitating interdisciplinary collaborative research.
AVS's participatory practices will continue, targeting those at the forefront of agricultural in Northwest Syria as an information focal point supporting agricultural development in a conflict-affected area.